AKLYS Defense Atlas 30 Caliber User Servicable Suppressor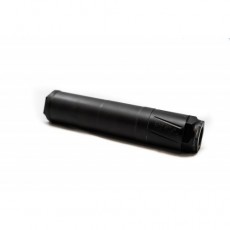 The Aklys Defense Atlas is our .30 caliber user serviceable suppressor. This can is a heavy duty suppressor that uses a double threaded interface and modular blast chamber for a lighter weight (20oz and 18oz, tube dependent select tube option when adding to cart)but comparable sound performance to the popular and excellent sounding Aklys Defense "Orion" , its built to withstand use on magazine fed machine guns and rated up to 300 Winmag.
The Atlas also functions as a superb multi caliber suppressor, allowing use on multiple hosts from .300Winmag down to 5.56mm. The double threaded 17-4 stainless construction with Nitronic60 blast baffle (10-12% better performance than Inconel)give this suppressor a lifetime of use and it user serviceable design allows use of extensive subsonic and un-jacketed lead projectiles without fear of clogging up the baffles. Minimal and consistent point of impact shift compared to unsuppressed host.
This is a 300 MAGNUM rated can!
Fits the Aklys Defense QD muzzle brake system for compatibility with 14mm LH, 1/2x28, 5/8X24. Choose brake with the suppressor. Additional brakes available at request.
Features:
Calibers: UP TO .300WINMAG
OALength - 8"
Diameter - 1 3/4"
Weight -20oz. with Stainless tube , 18oz with titanium tube upgrade (select tube option when adding Atlas to cart)
Materials - 17-4 series Stainless Steel with reinforced Blast chamber and Nitronic60 blast shield
Finish – Black Nitride and Black GunKote